How Cute Are You!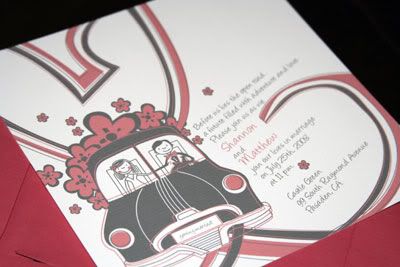 I know you have seen me write about the too terribly cute graphics that friend of the Dish Holly Hatam over at Tear Drop Weddings creates for her stationery line. Well now is your chance to be just as cute.
Like any good designer, Holly is looking for inspiration and who better to inspire her than all the lovely brides and groom out there in Wedding Dish land.
Holly is looking for 20 brides to inspire her. All you need do is tell her your story about how you met your fiance, how you fell in love, your creative ideas and details for your wedding. Then she will choose the 20 brides that inspire her the most and design an invitation around that story. And in return, you will receive a custom designed invitation, but for the price of a design that you would choose out of her ready made collection! That is a savings of $1500!
I love that: Couture at Ready to Wear prices.
Hop over to the blog at Tear Drop Weddings and tell my girl Holly your story: then you can be too terribly cute too!
On another note; congrats to Holly. The boy just popped the question. I can't wait to see those invitations.
Labels: Friends of The Dish, invitations, wedding style
Subscribe to Wedding Dish by Email